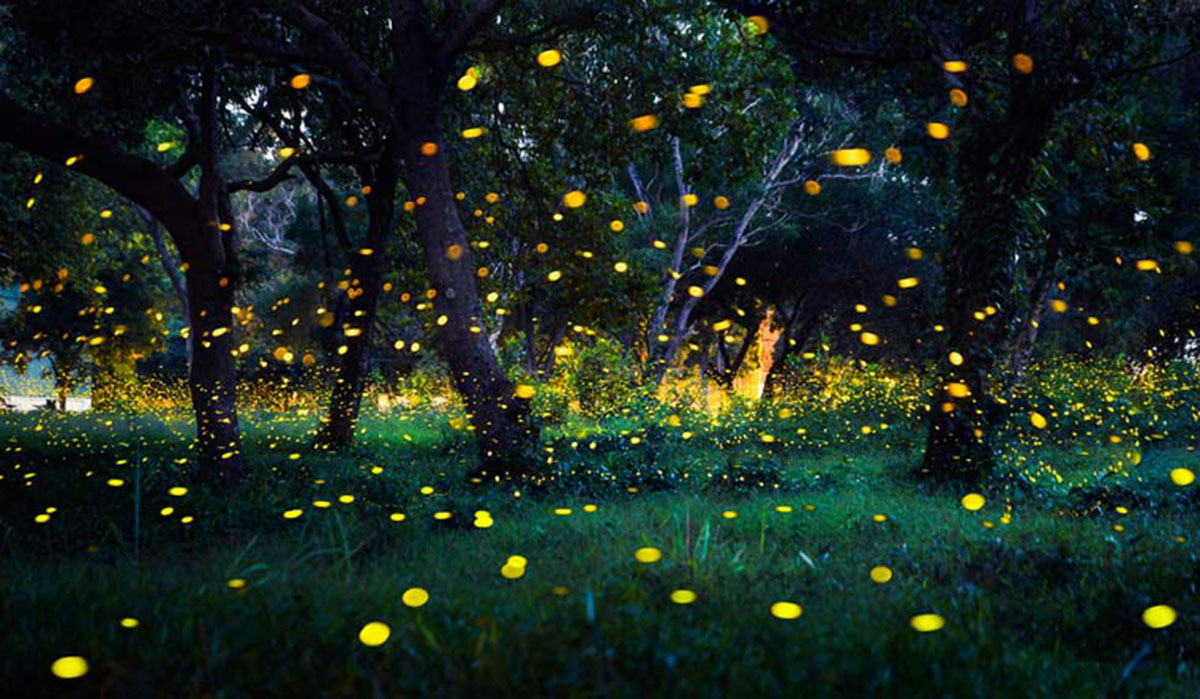 Glowing Fireflies around Anmol
Visit Anmol just before monsoon (30th May – 10th June) to see fireflies
Certain areas of Maharashtra are famous for beautiful glowing fireflies flickering at night just before the commencement of the monsoon. Actually, fireflies are ordinary-looking insects during the day, but at night, they light up the world around them. This is their mating period so they gather in multitudes and prepare themselves for their performance. The light emerging out of their body is called bioluminescence which is a rare natural phenomenon.
Anmol is located in one such unique place where you can get this lifetime experience of watching the magnificent show of fireflies where they literally dance. You will certainly get thrilled to see thousands of file flies flicker across the trees making trees twinkling all around Anmol and the entire hill creating an amazing display of light.
They fling aside their unassuming facades to reveal their extravagant countenance. Don't miss to visit Anmol this time of the year to enjoy this spectacular luminous display on dark nights.
Pawana Lake
Located in the hilly range of Sahyadri Mountains 14.2 km away from Anmol villa towards Lonavala. Pawana Lake is a reservoir turned into an artificial lake formed by Pawana Dam across river Pawana. The lake and dam were built in 1972. Since then, it has become the tourist attraction for boating, as well as for enjoying the lush green surrounding of Pawana lake, specially in monsoon for camping.
Recommendation – All age group guests can visit this tourist site.
Tikona Fort
Tikona fort or a triangular-shaped fort is situated at 3500 ft height on the top of one of the Sahyadri mountains. It is 8 km away from Anmol villa towards Lonavala. Tikona fort was conquered by Chhatrapati Shivaji Maharaj in the year 1657 which was a part of Nizam territory earlier. He strategically used this fort as a center to control the entire Pawana Maval region. Tikona Fort is a primary attraction for good and easy trekking which starts from Tikona Peth. It is a one-hour trekking route to reach the entrance of the fort.
Recommendation- Age group 15 to 55
Tunga Fort
Tunga Fort Located at the height of 3527 ft on top of one of the Sahyadri mountain peaks near Pawana Lake. It is 12 km away from Anmol villa. Tunga fort also was captured by Chhatrapati Shivaji Maharaj which was built in the Adil Shahi dynasty. The fort is surrounded by the water of Pawana Lake from three sides. It's a primary attraction for trekkers which is moderately difficult to climb. From Pawana dam, reaching this fort requires a 400 m climb.
Recommendation – Primarily young and physically fit guests should visit this place.
Hadshi Mandir
Sri Satya Sai Pandurang Kshetra also known as Hadshi Mandir is situated atop a hill in a remote village of Hadshi. It is 10 km away from Anmol villa and takes about 30 minutes to reach this spot. It is close to Pawana lake and nestled in beautiful scenic surroundings. Thus the triune temple is dedicated to Lord Ganesha, Lord Pandurang ( Vitthal), and Bhagwan Shirdi Sai.
This temple is run by the Satya Sai Baba trust and is a heavenly place for both young and adults. Lush green lawns, ponds with swans make the place very attractive for the tourists.
Recommendation – All age group
Boating in Hadshi Lake
A small lake situated near Hadshi village is the biggest attraction for boating with families. It is 6 km away from Anmol villa towards Lonavala and a beautiful picnic spot to spend a few hours with the family.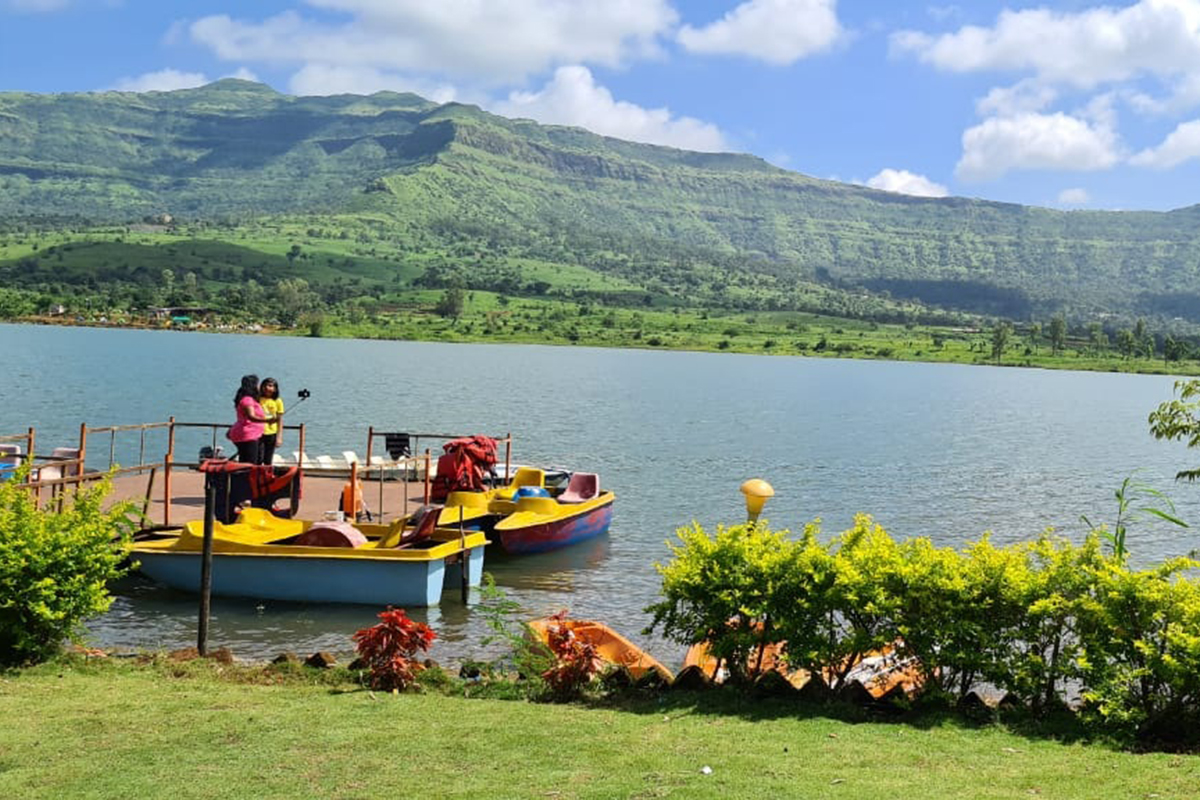 Chinmaya Vibhooti Ashram
Chinmaya Vibhooti Ashram was built in the year 2012 on 65 acres span of land in Kolvan village, just three km away from Anmol villa. This ashram is a celebration of the life of the remarkable monk and founder of Chinmaya Mission, Swami Chinmayananda.
The vision of Chinmaya Vibhooti is to promote the inner transformation of spiritual seekers through Vedantic knowledge, spiritual practices, and social services, thereby promoting a more harmonious and holistic world
Vibhooti means 'glory'.Chinmaya Vibhooti is a light to show, keep, and spread the glory of Swami Chinmayananda's Vedantic teaching and social service projects alive and radiant throughout the world.
Recommendation – All age groups, especially for spiritually inclined guests.